Jackery 1500 vs Jackery 1000 – Blog
Jackery 1500 vs Jackery 1000: Jackery is well-known in the portable power station industry for producing high-quality goods that consistently meet or exceed customer expectations.
Capacity: 1534Wh (60.9Ah/25.2V)
Wattage: 1800 wattage
Item Weight: 35.27lbs/16kg
Max solar recharge time: 5 hours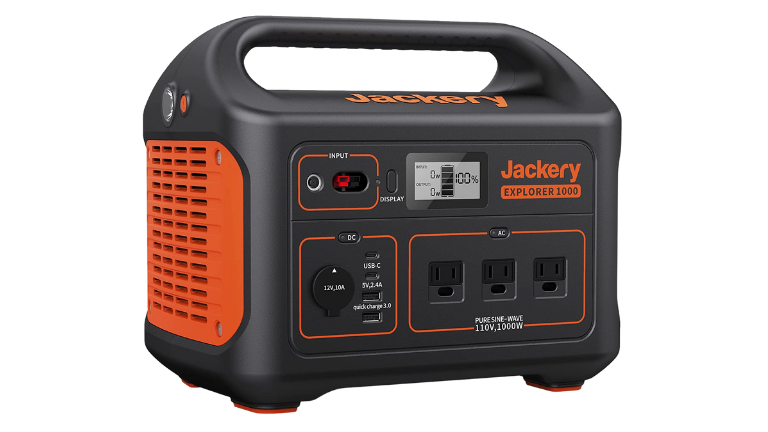 Capacity: 1002Wh (46.4Ah, 21.6V)
Wattage: 1000 watts
Item Weight: 22.04lbs
Max solar recharge time: 8 hours
The Jackery 1500 and Jackery 1000, two of its most popular versions, are frequently pitted against one another in comparisons of power and functionality. To help you choose the best portable power station for your needs, we'll compare and contrast the Jackery 1500 and 1000 in this blog post.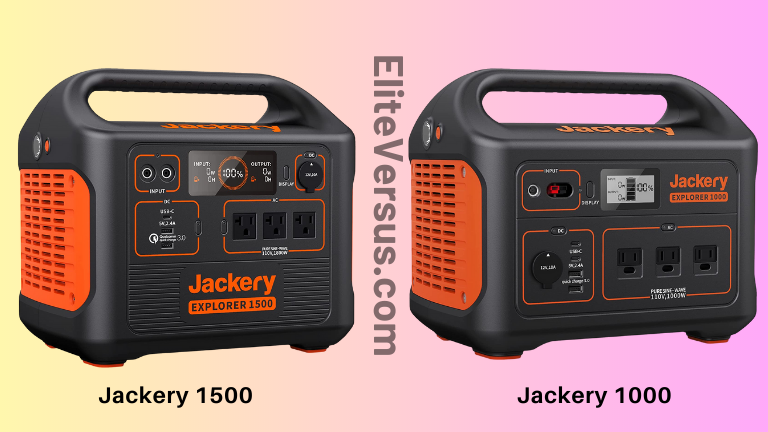 A brief overview of the key similarities and differences.
Price: In terms of cost, the Jackery 1000 is a better deal than the Jackery 1500. The latter is more expensive, whereas the former is more affordable.
Watts: The Jackery Explorer 1500 outperforms the Jackery Explorer 1000, which runs at 1000 watts and has a capacity of 1002 Wh, thanks to its 1800-watt operational capacity and 1534-watt-hour storage capacity, respectively.
Peaking Watts: The Jackery Explorer 1500 AC can generate 3 x 110V at 60 Hz, 16.4 A, and 1800 W (peaking at 3600 W) of electricity. The Jackery Explorer 1000 AC, on the other hand, has a 3 x 110V, 1000W (peak, 2000W) output.
Popular: The Jackery 1000 is a far more popular portable power station on Amazon than its bigger brother, the Jackery 1500. Customers have given it high marks, so it's no surprise that it's popular among those looking for portable power sources they can trust.
Weight: The Jackery 1000 is the more convenient choice due to its smaller weight of 22.04 pounds. The Jackery 1500, on the other hand, comes in at a considerably hefty 35.27 pounds, making it less ideal for individuals who need a lightweight power station.
Dimension: The Jackery 1000 is 13.1 by 9.2 by 11.1, while the larger Jackery 1500 is 14 by 10.4 by 12.7 inches (35.6 by 32.3 cm). Because of their small form factors, both versions are portable and efficient in terms of storage space.
Jackery 1500 vs Jackery 1000
Buy on Amazon
Buy on Amazon
Brand
Jackery
Jackery
Capacity (D)
1534Wh (60.9Ah/25.2V)
1002Wh (46.4Ah, 21.6V)
Charging Time (D)


2 Solar Saga(6 Hours)
4 Solar Saga(4 Hours)
Wattage (D)
1800 wattage
1000 watts
DC Input (D)
2 x 48V-6.25A (Double to 500w Max)
8mm DC, 12V~30V (200W Max)
Electric Grill (D)
60 Mins
50 Mins
Mini Cooler (D)
21 Hrs
13 Hrs
TV (D)
21 Hrs
13 Hrs
Power Source
Battery-Powered, Solar Powered
Battery-Powered, Solar Powered
Voltage
110 Volts
110 Volts
Total Power Outlets
3
3
Product Dimensions
14 x 10.4 x 12.7in (35.6 x 26.4 x 32.3cm)
13.1*9.2*11.1 In
Item Weight
35.27lbs/16kg
22.04lbs
Most Popular Questions About: Jackery 1500 vs Jackery 1000
What is the difference between the Jackery 1000 and 1500?
Numerous Security FeaturesYour network and data are protected by sophisticated firewall policies, DoS protection, IP/MAC/URL filtering, speed testing, and other security features.
Can Jackery 1500 power a refrigerator?
The Jackery Solar Power 1500 and 2000 Pro are two of the top Jackery solar generators that can run your refrigerator for hours. Your big refrigerator can run for almost three hours with a Jackery Solar Generator 1500 and four SolarSaga 100-watt panels. Your 60-watt microchiller may be charged for 21 hours while you wait.
Is Jackery 1000 enough?
The Jackery's pure sine wave inverter can produce 1000 W continuously and 2000 W in a surge. This is enough power to run the majority of the AC appliances you'd need in a van (our van has a Xantrex 1000W inverter, and we seldom use more than that).
Can a Jackery 1000 power a full size refrigerator?
The Explorer 1000 can power a portable refrigerator, as Jackery often notes. Yes, but you can also power a real refrigerator. I connected the 25.5 cubic feet of my kitchen.
Can Jackery 1000 be used indoors?
Utilizing solar panels in conjunction with the Jackery Explorer 1000 Portable Power Station, you may obtain green, sustainable energy. It is the best energy source for indoor, outdoor, or off-grid life since it is 100 percent pure and produces no emissions or gases.
How many years will a Jackery 1000 last?
If the Jackery 1000 is used four times each month (on average), the battery will last ten years. The battery life for the Jackery 1000 is 500 cycles, where a cycle is defined as a complete discharge and full recharge.
How long does Jackery 1500 last?
With a third larger battery capacity, the Jackery 1500 should be able to operate for over 17 hours. In summary, the Jacker Explorer 1500 is a portable power bank that is quite practical and might significantly improve your quality of life during a blackout. Keep in mind that it needs to be kept dry while used outside.
Can a Jackery 1500 run a microwave?
High-power gadgets like microwaves may be charged using small solar systems like the Jackery Solar Generator 1000 Pro and Jackery Solar Generator 1500 Pro.
Jackery 1500 vs Jackery 1000 Reddit Answers
1. Compare the Jackery 1500 to the Blueetti EB150, which is a bit older but offers wonderful pricing per kwh, or even the Blueetti AC200P. That item now reigns supreme, but only because it is lifeproof (long-lasting) and equipped with a powerful 2 kw with a 4800 surge converter.
————————————————-

2. Actually, I'm considering purchasing a 1500-watt inverter that I can connect to the starting battery of my hybrid. According to what I understand, the hybrid will keep the starting battery charged as long as you use less than 1000 watts.Additionally, most generators are less efficient than hybrid cars. I would just leave it parked in the driveway, close the garage door with the key inside, and park my second vehicle behind it.
——————————————————–
3. I LOVE HOW WELL MY JACKERY WORKS! I own two 1000W The solar panels are pricey and not weatherproof; however, everything else is incredible and functions well.