Kodak Dock Premium vs Kodak Dock Plus – Blog
Kodak Dock Premium vs Kodak Dock Plus: Kodak has been a go-to brand for rapid picture printing for decades. Here, we'll evaluate two of their most popular products, the Kodak Dock Premium and the Kodak Dock Plus, side by side.
Both products boast superior print quality, portability, and simple smartphone pairing. Come along as we compare and contrast the capabilities of various photo printers so that you may choose the one that best meets your needs. Come with me as I discover the wonders of Kodak Dock printers!
Sale
Sale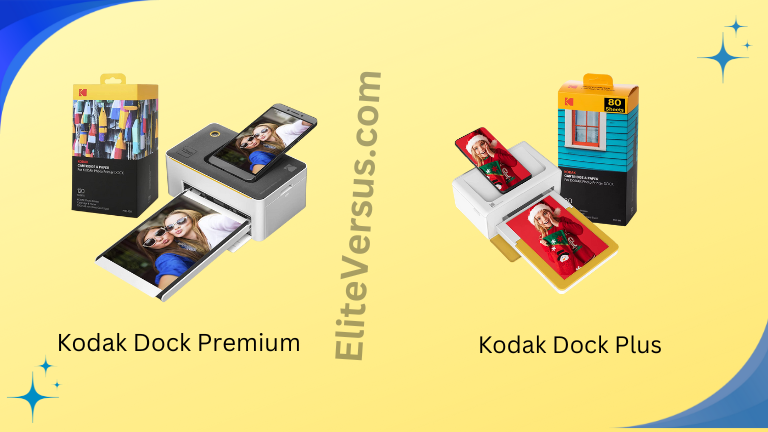 A brief overview of the key similarities and differences.

Weight: The picture printer's weight might be crucial in terms of mobility. The Kodak Dock Plus, at a mere 4.4 pounds, is a more portable solution for people who value portability. The Kodak Dock Premium, on the other hand, is a bit bigger and heavier at 5.28 pounds. When choosing between these two types, it is important to think about how mobile you need your printer to be.

Dimension: The Kodak Dock Premium and the Kodak Dock Plus are not identical in terms of size and dimensions. The Kodak Dock Premium is a bit more cumbersome than other options because of its larger size (11.25 x 8.75 x 5.83 inches). The Kodak Dock Plus, on the other hand, is easier to travel with and store because of its tiny 7 by 4 by 3 inch form factor. When deciding on the optimum size for your picture printing equipment, take into account the available space and your mobility demands.
Price: The price tag is the most obvious contrast between the Kodak Dock Plus and the Kodak Dock Premium. The Kodak Dock Plus may be purchased for less money than its more advanced sibling, the Kodak Dock Premium. The Kodak Dock Plus is an affordable photo printer that doesn't skimp on quality or functionality, making it a great choice for people on a tight budget.
Printout: The number of copies available is yet another manner in which the Kodak Dock Premium and Kodak Dock Plus are distinguished from one another. The Kodak Dock Premium is equipped with a generous 130 printouts for all your printing requirements. However, people with less frequent printing needs may prefer the Kodak Dock Plus, which comes with a smaller bundle of 80 prints. When deciding between these two models, take into account your needs and preferences.
Similarities: Both the Kodak Dock Premium and Kodak Dock Plus provide an extensive range of useful features that improve the process of printing photographs. Both have cutting-edge 4Pass Technology built right in, so you can print perfect, colorful photos in record time. The Bluetooth and USB connectivity options they provide make sharing and printing favorite photos from many devices a breeze. Both the Kodak Dock Premium and Kodak Dock Plus benefit from the same high-quality image capture and storage features.

Popular: The Kodak Dock Plus has a stellar reputation on Amazon, where it has received over 11,000 five-star ratings. Sixty-six percent of reviewers gave it a perfect score of five stars, attesting to its high quality. Although there is some praise for the Kodak Dock Premium, it has earned fewer raves overall. This helps the Kodak Dock Plus stand out from the crowd and further establishes it as a customer favorite.
Kodak Dock Premium vs Kodak Dock Plus
Buy on Amazon
Buy on Amazon
Brand
KODAK
KODAK
Controller Type
IOS, Android
IOS, Android
Size
4×6"
4×6"
Style
130 PRINTS
80 PRINTS
Date First Available
March 24, 2021
May 16, 2020
Print With Borders/Print WithOut Borders
4Pass Technology to Print Flawless Photos Instantly
Recommended Uses For Product
Home
Home
Connectivity Technology
Bluetooth, USB
Bluetooth, USB
Item Weight
5.28 Pounds
4.4 Pounds
Product Dimensions
11.25 x 8.75 x 5.83 inches
7 x 4 x 3 inches
Most Popular Questions About: Kodak Dock Premium vs Kodak Dock Plus
Is kodak dock plus portable instant photo printer compatible with ios?
The Kodak Dock Plus is compatible with Apple iPhone, iPad, and Android smartphones, as well as wireless Bluetooth connectivity.
Is Kodak still making printers?
Kodak is a multinational firm that takes pride in its ability to make high-quality printers for the workplace and home.
Why is my Kodak photo printer dock not grabbing paper?
Incorrect paper positioning or a poor paper tray installation are common causes of this issue. It might also be the result of insufficient cleaning of the paper feeder roll. Caution: Only use Kodak color cartridges and paper packs with your printer dock.
Does Kodak Instant printer need ink?
Because it prints on Kodak Zink Photo Paper, no ink cartridges or toners are required. The photo prints are long-lasting, water-resistant, and adhesive-backed for added enjoyment.
What app to use for Kodak printer?
Connect this pocket-sized printer to your smartphone with the free Kodak Step Prints app to generate spectacular 2′′ x 3′′ prints whenever and wherever the urge strikes you.
Is Kodak app free?
Connect to the free, simple-to-use KODAK SMILE App, which includes editing options, filters, and augmented reality technology that really brings your images to life.
Can I print from my phone to a Kodak printer?
To connect your Kodak printer to your Android phone, first download and install the Kodak printer app on your Android device, then connect the printer using Bluetooth or NFC. Launch the app and begin printing your document once your printer is linked to your Android phone.
Can I print directly from my mobile phone?
Check that your printer and smartphone are both connected to the same wireless network. Select Print from the menu of your open document. Select A Printer, followed by All Printers. The Add Printer option may be found here.
What is the cheapest film from Kodak?
The least expensive 35mm color film that the illustrious company produces is Kodak Gold 200. It is frequently the least expensive color film that any company produces. If you've never shot this form of film before, you might be wondering if it's a good alternative because of the reduced cost.
Kodak Dock Premium vs Kodak Dock Plus: Reddit Answers
1. I have photography experience (hobbyist level) and recently examined the photo quality on them since I'm considering acquiring one as well. Canon is the best option. If portability is not a problem, choose the Selphy CP1300 rather than the Square. It is still rather little. It's on my shopping list!
————————————————-

2. This is what I've got! It's a Selphy CP1300. The price ($130) is not far from the Square.
There are several sizes and types of paper available, including standard picture paper and sticker paper, which you can simply peel off and place on things. It does require the purchase of proprietary Canon cartridges, which are standard for all tiny picture printers.
The program allows you to print many photographs on one page, which is useful when you need a few photos to fit in a layout. One annoyance is that the sticker paper has rounded edges, so when I cut out smaller images, I have to use my corner rounding punch to make them symmetrical. When I run out of sticker paper, I'm going to use dot glue tape, but you may also use washi tape.
——————————————————–
3. I support Canon Selphy Square! I too have a Fujifilm Instax picture printer; however the photographs are thick and do not come with a sticky backing. The Selphy Square prints are made of thin sticker paper and printed with dye sublimation, so they should survive for at least 100 years.
I would not suggest "zink or zero ink printers since the prints sometimes bleed.