Ninja BL660 vs Ninja BL770 – Blog
Ninja BL660 vs Ninja BL770: Here we have the BL660 and the BL770, the two top models of the Ninja blender family.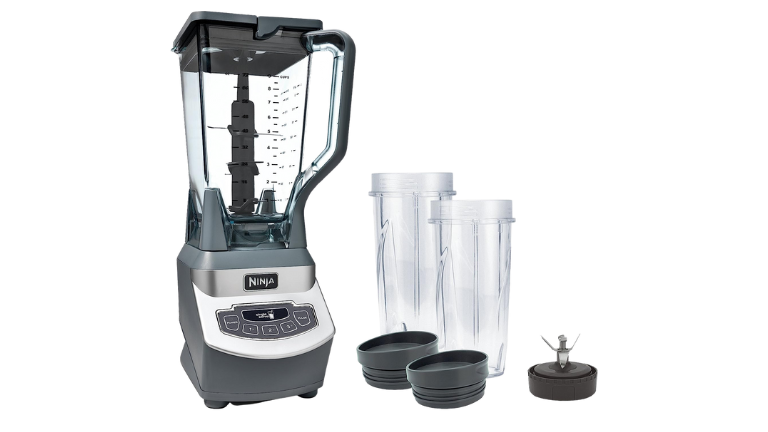 Number of Speeds: 3
Manual Settings: 4
Wattage: 1100 Watts
Item Weight: 7.6 Pounds
Number of Speeds: 4
Manual Settings: 5
Wattage: 1500 Watts
Item Weig3ht: 9.2 Pounds
If you're looking for a potent appliance to help you out in the kitchen but can't decide between these two, your search is over. We'll break down their functions and capacities so you can choose the best blender for your requirements. All right, let's start swimming!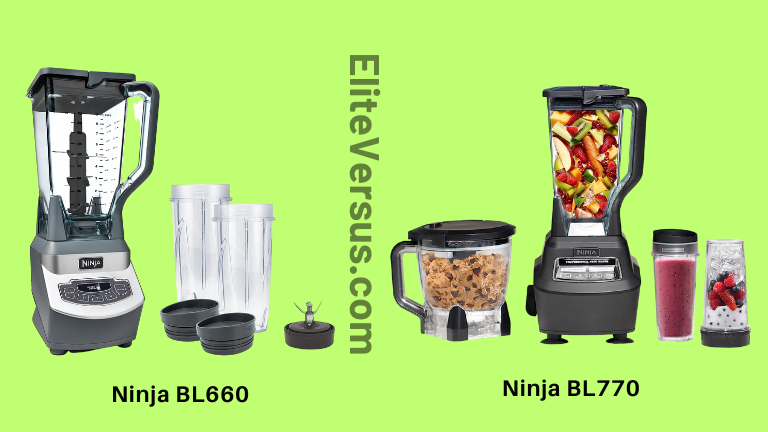 A brief overview of the key similarities and differences.
Popular: The Ninja BL660 is more popular than the Ninja BL770, according to customer reviews on Amazon.com. The BL660 has won over a large audience with its powerful functionality, adaptability, and reasonable pricing. Is there anything novel about the BL770, though? Hmm, I wonder.
When choosing between the Ninja BL660 and BL770, cost is an important consideration. The BL660 is aimed at thrifty shoppers, while the BL770, which is more expensive but has more bells and whistles, may be worth the splurge. Pick carefully!
Watts: The Ninja BL660 has a more powerful engine (1100 Watts), a larger pitcher (72 ounces), and two 16-ounce Nutri Ninja Cups with To-Go Lids than its competitors. However, the Ninja BL770 goes above and beyond with a more robust 1500-Watt engine, a comparable 72-ounce pitcher, two 16-ounce Nutri Cups, and an extra 64-ounce Processor Bowl.
Features: Both the Ninja BL660 and BL770 are equipped with a variety of features that make them useful in a variety of situations. These multifunctional kitchen aids can do it all, from blending smoothies and shakes to processing ingredients.
Similarities: Features like Recipe Inspiration to spark culinary creativity, Single-Serve Blending for on-the-go convenience, Dishwasher Safety for hassle-free cleanup, Drinks and Dips for delightful concoctions, Easy Cleaning to save time and XL Capacity to accommodate large batches set the Ninja BL660 and Ninja BL770 Blenders apart from the competition.
Weight: The Ninja BL660 weighs in at a light 7.6 pounds, making it convenient to transport and store. The Ninja BL770, at 9.2 pounds, is noticeably heavier, giving the user a sense of security and steadiness when using the device.
Dimension: With measurements of just 8 by 6 by 17 inches, the Ninja BL660 is a space-saving addition to any kitchen. The Ninja BL770, with its dimensions of 9.5 by 8.25 by 17.75 inches, has a more noticeable presence and more storage space than its smaller counterpart.
Ninja BL660 vs Ninja BL770
Buy on Amazon
Buy on Amazon
Brand
Ninja
Ninja
Number of Speeds (D)
3
4
Manual Setting (D)
4 Manual Programs
5 Manual Programs
Wattage (D)
1100 Watts
1500 Watts
Single-Serve
EASY TO CLEAN
XL blending
Is Dishwasher Safe
Product Dimensions
8 x 6 x 17 Inches
9.5 x 8.25 x 17.75 Inches
Item Weight
7.6 Pounds
9.2 Pounds
WHAT'S INCLUDED
72 oz. Total Crushing Pitcher with Lid, Stacked Blade Assembly, (2) 16 oz. To-Go Cups, (2) Spout Lids, Pro Extractor Blades Assembly, & 28-Recipe Inspiration Guide.
72-Oz. Total Crushing Pitcher (64-oz. max liquid capacity), 64-oz. Processor Bowl, (2) 16-oz. Nutri Ninja Cups with To-Go-Lids, Stacked Blade Assembly, Nutri Ninja Blades, Dough Blade, Chopping Blade & 31-Recipe Inspiration Guide.
Most Popular Questions About: Ninja BL660 vs Ninja BL770
Is the Ninja BL660 a good blender?
The Ninja Professional BL660 Blender Smoothies is one of the finest countertop blenders since it is strong, adaptable, and quick. There is no need for a food processor while making smoothies, dips, gravies, and other items in the blender. If this doesn't satisfy your demands for producing smoothies, see our guide to the best smoothie blenders.
How many years does a ninja blender last?
Your Ninja blender may last for at least three years if you use it every day and clean it well after each use. A well-built Ninja blender, even when brand new, may survive up to five years, particularly if the pitcher is constructed of high-quality glass.
What is the lifespan of a ninja blender?
Ninja appliances come with a one-year warranty, but this does not ensure that they will survive more than 365 days under normal use. Some customers even express disappointment that their Nutri Ninja, despite frequent usage, only lasted a few months. But your Ninja can last years if you take excellent care of it and use the guarantee if required.
Can you put boiling water in a ninja blender?
In accordance with the Ninja Professional Blender's instruction manual: Warning: Avoid processing food or liquid that has been heated above 180°F (82°C).
Are Ninja blenders quality?
in comparison to other brands. great construction. Even though most Ninja blenders have plastic gearboxes, they have excellent construction and feel strong. Most of them may be readily cleaned by placing the jar, lid, and blade assembly in the dishwasher, thanks to their design.
Is it worth buying Ninja blender?
Despite the fact that the majority of models have the power to chop nuts into butter, not all users have found that the results are reliable. - Not all models work well for nut butter preparation. In conclusion, if you want high-quality equipment that can perform a range of jobs, a Ninja blender is a fantastic choice.
How often to replace Ninja blender?
For optimum performance, it is advised that you replace your Ninja blender every six months or as required.
What blender has a lifetime warranty?
Lifetime Warranty; Nuwave 64-Oz Infinity High-Performance Blender
Ninja BL660 vs Ninja BL770: Reddit Answers
1. The amazing Breville BBL620 sits between the Vitamix 5200 and the BL770. Breville is an Australian firm; therefore, I'm not sure about the German prices.
————————————————-

2. My Ninja blender is from Costco, and it works perfectly. I prefer mine since the blades are on a shaft like a food processor instead of being at the bottom of the carafe. With this item, pretty much everything I've produced has been put together silky smooth.