Ninja CP301 vs Ninja CM401 – Blog
Ninja CP301 vs Ninja CM401: Ninja is a well-respected name in the world of kitchen appliances, and for good reason. Their products consistently deliver outstanding results. In this article, we'll examine the similarities and differences between two of their most popular products, the Ninja CP301 and the CM401. Find out what sets these two coffee machines apart and how they compare to help you choose between them.
Sale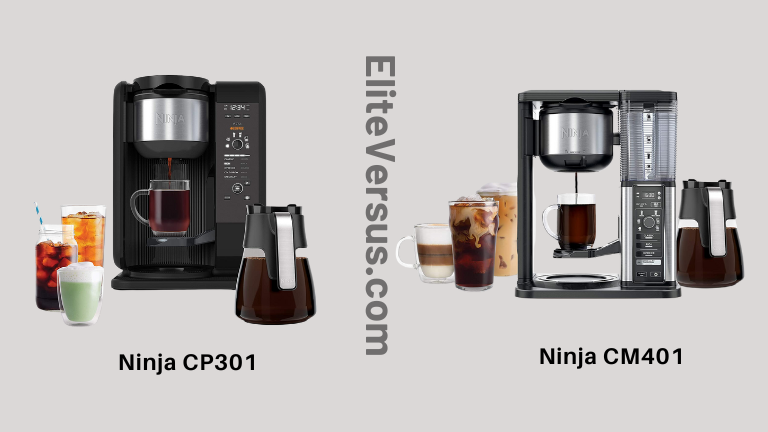 A brief overview of the key similarities and differences.
Weight: The Ninja CP301 and the CM401 are dissimilar from one another not just in their ability to make coffee but also in their weight. The CM401 is lighter at 9.24 pounds, whereas the CP301 is heavier at 11.09 pounds. If portability is an important factor, consider this weight difference.


Dimension/Size: The Ninja CP301 and CM401 are somewhat different in size from one another. The CP301 is 11.81 by 10.01 by 15 inches, whereas the CM401 is 11.99 by 8.75 by 15.04 inches. Depending on the size of your available counter space, these factors might be relevant to your selection.
Options/Features: The number of coffee brewing methods is one area where the Ninja CP301 and CM401 diverge. The CP301 can make regular coffee, rich coffee, coffee over ice, specialty coffee, and cold brew. The CM401, on the other hand, has four options for brewing: regular, extra-strong, over ice, and specialty. Depending on how you like your coffee, the different brewing methods may sway your decision.
Watts: The Ninja CP301 has a power output of 1500 watts, whereas the Ninja CM401 boosts it to 1550 watts. This slight variation in wattage might have an impact on the brew time and overall effectiveness of the coffee makers.
Popularity: With over 16,000 positive ratings on Amazon, the Ninja CM401 has quickly become a customer favorite. Eighty-five percent of the reviews give it the highest possible score of five stars. It's incredible to hear such acclaim. The Ninja CP301 has garnered fewer praises than the Ninja CM401, making the latter more noticeable.
Price: When compared to the Ninja CP301, the Ninja CM401 is the more cost-effective option because of its lower retail price. The CP301 is more expensive than the CM401, but it has more features and capabilities and doesn't sacrifice performance.
Similarities: The Ninja CP301 and Ninja CM401 have many of the same great characteristics. Features such as a detachable water reservoir that makes refilling a breeze, a delay brew feature that allows for brewing on your own time, a stylish black exterior that goes with anything, a large 50-ounce (10-cup) glass carafe that's perfect for serving large groups, and an on-board storage space for the included Ninja scoop make this a great addition to any kitchen. Both models benefit from these commonalities, making them stand out as adaptable and simple to operate.
Extra Feature: The Ninja CM401 expands your beverage options by allowing you to brew many types and flavors of tea. The CM401 is a better alternative for tea connoisseurs since it has features that the Ninja CP301 lacks.
Ninja CP301 vs Ninja CM401
Buy on Amazon
Buy on Amazon
Brand
Ninja
Ninja
Wattage (D)
1500 Watts
1550 watts
Type of Carafe
50 oz. (10-Cup) Glass Carafe
50 oz. (10-Cup) Glass Carafe
Tea Brew Styles
Tea Brew Types
Coffee Brew Styles (D)
Classic, Rich, Over Ice, Specialty and Cold Brew
Classic, Rich, Over Ice, and Specialty
Date First Available
August 1, 2018
April 29, 2019
Serving Size Options
Cup, XL Cup, Travel Mug, XL Multi-Serve, Half Carafe & Full Carafe
Cup, XL Cup, Travel Mug, XL Multi-Serve, Half Carafe & Full Carafe
Color
Black
Black
Permanent Filter
Coffee & Tea
Ninja Scoop with Onboard Storage
Built-In Fold-Away Frother
Removable Water Reservoir
Programmable Delay Brew
Style
Glass Carafe
Glass Carafe
Material
Plastic
Stainless Steel
Dimensions
11.81 x 10.01 x 15 Inches
11.99 x 8.75 x 15.04 Inches
Special Feature
Milk Frother,Programmable,Removable Tank
Milk Frother, Programmable
Item Weight
11.09 Pounds
9.24 Pounds
Most Popular Questions About: Ninja CP301 vs Ninja CM401
Is Ninja CP301 SCA certified?
The Ninja CP 301 has received SCA certification and satisfies their Golden Cup requirement. It is a completely tuned brewer for extraction and strength. Both a half-full and a full carafe were used in the SCA's testing, which was carried out using the traditional brew setting and low heat for the hot plate setting.
Does Ninja CP301 have warming plate?
A warming plate and a glass carafe are features of the CP301. To keep the coffee hot, the CP307 incorporates a Thermal Carafe that can be removed from the appliance.
Can the Ninja CM401 make espresso?
Although Ninja coffee makers can produce a variety of caffeinated drinks, they cannot produce true, authentic espresso like espresso machines. A Ninja coffee maker's "specialty brew" setting may be used to create drinks that resemble espresso.
Can I boil water in a Ninja?
Yes! Remember that it will take around 10 minutes for all of the pressure to naturally release, so the water temperature will go from a full boil to a moderate boil.
How many cups is the Ninja CM401?
Specialty 10-Cup Coffee Maker, Black, 50 Oz., Ninja CM401, with 4 Brew Styles for Ground Coffee, Built-in Water Reservoir, Fold-Away Frother, and Glass Carafe
Can Ninja CP301 make espresso?
Yes, there is a specialty coffee setting and a whisk for frothing milk on the Ninja Hot and Cold Brewed System. However, it doesn't produce espresso. You may use the whisk that comes with the system to froth milk for your specialty coffees.
Is Ninja CM401 dishwasher safe?
On your question about the NinjaTM Specialty Fold-Away Frother (CM401) Coffee Maker, we are delighted to assist you. The top-rack dishwasher is safe for use with the glass carafe, brew-through lid, permanent filter, detachable filter holder, water reservoir, flip-top lid, frother whisk, and scoop.
What is best to clean Ninja?
Again, you should never clean your Ninja Foodi with strong chemicals. Make a paste out of baking soda and water to attempt to remove any tough stains you may run into. While being sufficiently strong to remove stains, it won't harm your food! Lemon and water are also effective.
Ninja cold brew system question?
I realize this isn't a Foodi related question (yes I do have one), but I'm hoping someone here also has the Ninja Hot and Cold Brewed System, model CP301. I'm having an issue with the brew basket not draining and ejecting itself during a brew at random times. I can't find any tips on the issue and Ninja support has been less than helpful. Just wondering if anyone else has experienced this and found a solution. Thanks!
1st Answer: Omg I'm not the only one having this issue! My husband thinks it has to do with the mechanism in the back but we haven't fully confirmed or figured out a way to fix it. For this last pot I used the ice coffee function (without ice) to see if it did the same thing and it had no problems. I might use this function for a while (I honestly don't notice a difference in my cold brew coffee with the way I make it) and see if it starts doing the same thing or not. I'm curious if others chime in as well.
2nd Answer: Mine is also doing this- I think the cold brew is supposed to eject differently due to the way cold brew brews, but not like this machine is doing. Mine makes a mess, a full coffee carafe comes to half. And it's cloudy.