Philips Norelco 5300 vs Philips Norelco 7100 – 60-Minute Runtime
Philips Norelco 5300 vs Philips Norelco 7100: Finding the best electric shaver for men's grooming might be a huge deal. For a long time now, Philips Norelco has been well-recognized as a symbol of innovative personal care products. In this article, we will examine the similarities and differences between two of Philips Norelco's most popular models The Philips Norelco 5300 and the Philips Norelco 7100. 
Both of these razors have earned rave reviews, but what sets them apart? Come along as we compare the Norelco 5300 and Norelco 7100 so that you can make an educated choice about which one is best for your own grooming needs. So, let's dig in and find out which shaver comes out on top in this epic showdown of male grooming tools.
Sale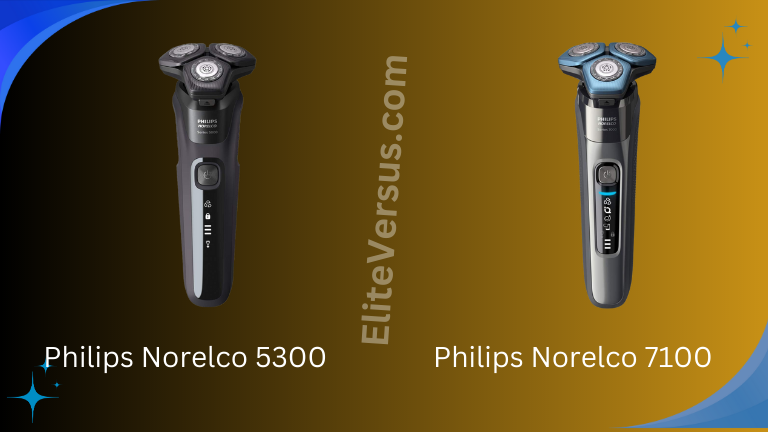 A brief overview of the key similarities and differences.
Popular: The Philips Norelco 5300 has been selling better than the Philips Norelco 7100 on Amazon.com. The Norelco 5300 is an advantageous option because of its rechargeable architecture, which permits both wet and dry shaving. In addition, a pop-up trimmer is included for your convenience, making it a one-stop shop for your grooming needs.
Price: The Norelco 5300 is a more affordable alternative to the Norelco 7100 if you're in the market for a new electric shaver. The Norelco 5300 is an attractive option because of its lower cost without sacrificing features or reliability.
Similarities: The superior performance of the Norelco 5300 and Norelco 7100 is the result of a wide range of shared features. The advanced Skin Protect 45 blades are one example; they provide a smooth, close shave without irritating the skin. These shavers do an incredible 90,000 cuts per minute, ensuring a quick and easy grooming session. The 360-degree contour heads bend and pivot with ease to follow the contours of your face for a close, comfortable shave. Both the 60-minute and 1-hour versions provide plenty of time for use, and the 5-minute rapid charge feature is convenient for a single shave on the road. These shavers go above and beyond basic shaving by including a pop-up trimmer. The Norelco 5300 and Norelco 7100 are also showerproof, so you may shave wet or dry, whichever you want. The LED screen makes checking the battery life and other settings a breeze. Both of these razors are top-notch purchases since they come equipped with so many useful functions.
Weight: The Norelco 7100 is somewhat heavier than the Norelco 5300, but only just. The Norelco 7100 weighs about 1.08 pounds, whereas the Norelco 5300 comes in at a somewhat lighter 1.03 pounds. Those who value portability or comfort while shaving may choose to add weight to make a small difference.
Dimension: The dimensions of the Norelco 5300 and Norelco 7100 are marginally different from one another. The Norelco 7100 is around 3.62 x 9.64 x 6.37 inches in size, whereas the smaller Norelco 5300 measures about 3.46 x 9.64 x 5.9 inches. Those looking for a more portable or ergonomic layout may care about these little distinctions.
Technology: With its cutting-edge SenseIQ Technology, the Norelco 7100 stands out from the competition by improving every aspect of the grooming process. It has ComfortGlide rings that make it easy to slide over the skin without causing any irritation. The motion control sensor further allows for easy and accurate shaving. The hair adapt sensor, which automatically adapts the shaver's settings to the user's hair type and thickness, is another standout feature. The Norelco 5300, on the other hand, has SenseIQ Technology built into its Hair Adjust Sensor, so it can effectively adjust to different hair types for peak performance. While both models boast cutting-edge technology, the Norelco 7100 goes above and beyond with deluxe comfort and control options.
Carrying Case: The Norelco 7100 goes above and beyond the Norelco 5300 by incorporating a carrying case, a charging stand, and a Quick Clean Pod with a cleaning cartridge. These supplementary items improve the shaver's portability and upkeep, turning it into a full-fledged grooming kit for on-the-go customers.
Philips Norelco 5300 vs Philips Norelco 7100
Brand
Buy on Amazon
Buy on Amazon
Brand
Philips Norelco
Philips Norelco
Shaving System
SkinProtect – 45 Blades, 90,000 Cutting Actions / Min
SkinProtect – 45 Blades, 90,000 Cutting Actions / Min
Contour Following
360° Contour Heads
360° Contour Heads
Run Time / Charge Time
60 Min / 1 HR
60 Min / 1 HR
Quick charge
Wet & dry (showerproof)
Accessories included
Travel case, charging stand, Quick Clean Pod with cleaning cartridge
SenseIQ Technology
Hair Adapt Sensor
ComfortGlide Rings, Motion Control Sensor, Hair Adapt Sensor
Accessories for Trimming /Styling / Grooming
Pop-Up Trimmer
Pop-Up Trimmer
Item Weight
1.3 Pounds
1.8 Pounds
Power Source
Battery Powered
Battery Powered
Dimensions
3.46 x 9.64 x 5.9 inches
3.62 x 9.64 x 6.37 inches
Most Popular Questions About: Philips Norelco 5300 vs Philips Norelco 7100
What's the difference between Philips series 5000 and 7000?
The Series 5000 has a prominent, angular taper that curls inward at a lower point, but the extended handle of the Series 7000 may be more comfortable for people with lengthy fingers.
Which model of Philips shaver is best?
The Philips Series 6000 is waterproof and may be used both wet and dry. Given its performance and pricing, this shaver will be one of the finest rotaries in 2023 for most customers, especially those searching for a highly comfortable razor.
What is the difference between Philips 6000 and 7000 series?
GentlePrecision blades in the Series 7000 shavers shave more smoothly than blades in the Series 6000. These keep the electric shaver from pulling on your hair, resulting in a smooth and comfortable shave. The SkinGlide bands surrounding the blades provide skin comfort.
What is the difference between Philips and Philips Norelco?
Philips Mfg. Co., allowing Philco to restrict Philips from using their trademark on items marketed in the United States. As a result, Philips adopted the moniker Norelco, which stands for "North American Philips [electrical] Company."
Which Norelco series is best?
The Phillips Norelco Shaver 9500 is our top overall selection. Unlike many of its predecessors, the ComfortGlide rings of the Philips Norelco 9500 make circular motion shaving nearly friction-free.
Which is better Philips 7000 or 3000 trimmer?
Both are high-quality Philips Norelco devices, but the 7000 packs more punch. Its bigger stainless steel body and rubberized grip are of superior quality than the Multigroom 3000's plastic finish. Furthermore, the Multigroom 7000 offers greater power, resulting in a smoother-feeling trim experience.
Is the Philips series 7000 good?
Verdict. The Philips Series 7000 electric shaver is an excellent choice if you want a grooming gadget that is packed with high-quality features, particularly for individuals with sensitive skin, but won't break the bank. It's well-thought-out and well-designed, with helpful app connections to boot.
How fast is Philips series 5000?
Philips Series 5000 Shaver is a product description. Every pass delivers a powerful performance: the steel-precision blades shave close, Cutting More Hair Per Stroke**, With Up To 90.000 Cutting Actions Per Minute.
Can you use Philips Norelco 7000 in the shower?
In or out of the shower, it produces a comfortable and close result. Because the body groomer is completely water-resistant, you can just rinse it clean after you're done. Trimming performance may be improved when hair is dry since damp hair tends to adhere to the body.
Philips Norelco 5300 vs Philips Norelco 7100: Reddit Answers
1. About twelve years ago, I purchased a shaver from Philips Norelco and haven't looked back. The fact that it has been going strong for so long surprised me today. Even though I didn't shave every day over that period, my electric razor has seen a lot of action while receiving minimal maintenance.
————————————————-

2. In the years 2012 or 2013? The premium versions were redesigned by the company. The new body design is elongated and slender, with a shaky neck and head. Having purchased one, I can attest that it has zero redeeming qualities. I despise their latest models of shavers. It's harder to clean, the battery is smaller and weaker, the trimmer is poor, it requires the base to charge, and so on and so forth. The new body type feels worse in the hand (too long + pointy bottom + lousy grip positions + no tactile power button = sh*t tactile design). In comparison to the previous model, it was a disaster.
Thankfully, I still had my old model from before (an 8894xl) and used it sometimes. But after my anger and disappointment with the "new" garbage, I swore off ever buying another Philips or Norelco product again. About a year ago, I invested in a Braun, and it has served me well.
——————————————————–
3. You just need to add a little oil once a month and swap out the blades twice a year. After repeated use and charging and discharging, batteries would ultimately fail. On the whole, nevertheless, these gadgets have a really solid construction.