TP Link ER605 vs TP Link ER7206
TP Link ER605 vs TP Link ER7206: A comprehensive comparison of these two high-performance routers, exploring their features, specifications, and benefits to help you make an informed decision for your networking requirements.
In an era where data breaches and cyber threats have become all too common, ensuring the security and privacy of our digital connections has never been more crucial. Enter the Wired Gigabit VPN Router, a cutting-edge solution that combines high-speed connectivity with robust virtual private network (VPN) capabilities.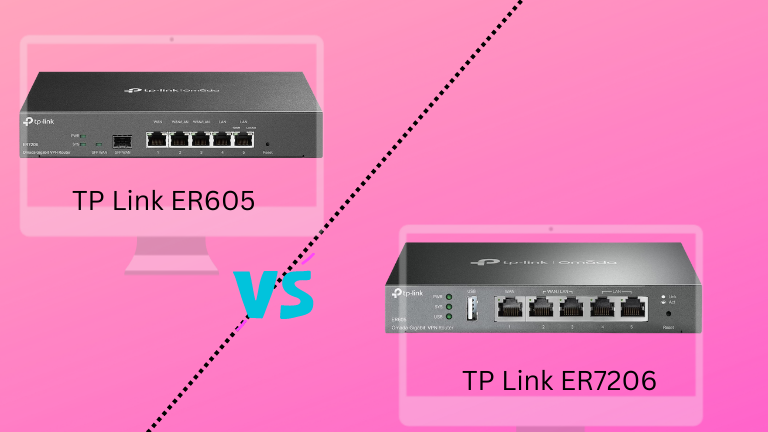 A brief overview of the key similarities and differences.
Dimension:
TP Link ER605 is Smaller: The TP Link ER605 has compact dimensions of 6.22 x 3.94 x 1 inch, making it a space-efficient router that can easily fit into various environments. In comparison, the TP Link ER7206 is slightly larger, measuring 8.9 x 5.17 x 1.38 inches.
These dimensions indicate that the ER605 is more compact and may be preferred for setups where space is limited, while the ER7206 offers a slightly larger footprint for those who prioritize additional physical connectivity options.
Ports:
The TP Link ER605 offers 1 fixed gigabit WAN port, 1 fixed gigabit LAN port, and 3 changeable gigabit WAN/LAN ports. In comparison, the TP Link ER7206 is equipped with 1 fixed gigabit SFP WAN port, 1 fixed gigabit RJ45 WAN port, 2 fixed gigabit RJ45 LAN ports, and 2 changeable gigabit RJ45 WAN/LAN ports. These distinct port configurations provide users with options to suit their specific connectivity requirements and network setups.
Similarities:
Both the TP Link ER605 and ER7206 routers share an impressive array of features that make them stand out. These include flexible traffic control, a durable metal case with a desktop design suitable for various locations, limited lifetime protection, remote cloud access, and compatibility with the Omada app.
Additionally, both routers operate on a single-band frequency, providing reliable network connectivity. With these common features, users can expect exceptional performance and convenience from both the TP Link ER605 and ER7206 routers.
Weight:
TP Link ER605 is LightWeight: The TP Link ER605 is remarkably lightweight, weighing just 0.78 pounds. In contrast, the TP Link ER7206 is relatively heavier, with a weight of 2.01 pounds. These weight differences indicate that the ER605 offers a more lightweight and portable option, while the ER7206 may provide added stability and durability due to its heavier build.
Popular:
TP Link ER605 is Popular: The TP-Link ER605 has gained immense popularity and enjoys a strong following among users on Amazon, especially when compared to the TP-Link ER7206. Its outstanding customer ratings and positive reviews highlight its widespread acclaim as a highly regarded computer router in the Amazon marketplace.
Price:
TP Link ER605 is Expensive: When considering cost-efficiency, the TP-Link ER605 proves to be a more budget-friendly option compared to the TP-Link ER7206, which carries a higher price tag. This makes the ER605 an attractive choice for those seeking affordability without compromising on performance and features.
TP Link ER605 vs TP Link ER7206
Brand
Buy on Amazon
Buy on Amazon
Color
TP-Link
TP-Link
Connectivity Technology
Ethernet
Ethernet
Interface
• 1 Fixed Gigabit WAN Port
• 1 Fixed Gigabit LAN Port
• 3 Changeable Gigabit WAN/LAN Ports
• 1 Fixed Gigabit SFP WAN Port
• 1 Fixed Gigabit RJ45 WAN Port
• 2 Fixed Gigabit RJ45 LAN Ports
• 2 Changeable Gigabit RJ45 WAN/LAN Ports
Control Method
Remote
Remote
Flexible Traffic Control
Limited Lifetime Protection
Omada App Enables
Frequency Band Class
Single-Band
Single-Band
Included Components
Gigabti VPN Router ER605 • Power Adapter • RJ45 Ethernet Cable • Quick Installation Guide
ER7206, Power Cord, Quick Installation Guide
Compatible Devices
Personal Computer
Personal Computer
Item Weight
0.78 Pounds
2.01 Pounds
Dimensions
6.22 x 3.94 x 1 Inches
8.9 x 5.17 x 1.38 Inches
Most Popular Questions About
TP Link ER605 vs TP Link ER7206
Is TP Link ER605 a firewall?
Numerous Security FeaturesYour network and data are protected by sophisticated firewall policies, DoS protection, IP/MAC/URL filtering, speed testing, and other security features.
What is the default TP Link ER605?
Note: Throughout this Guide, we use ER605 as an example to keep things simple. Launch a web browser, enter the default management address 192.168.0.1 into the address bar, and then hit Enter.
Which security is best for TP-Link?
How to Modify Your TP-Link Router's Security Settings... We advise using WPA2-PSK[AES] or WPA3-Personal+WPA2-PSK[AES] as your security choice.
What is omada TP-Link?
TP-Link Omada ensures improved privacy protection by separating network management data from user data and preventing user traffic from going through the cloud. Omada Router JetStream Switch Omada Access Point Cloud T1/DSL User Traffic Management Data.
What is the maximum speed of RE605X?
Covers up to 1500 square feet and 30 devices, 1.8Gbps TP-Link AX1800 WiFi 6 Extender(RE605X)-Internet Booster, Dual Band Repeater up to 1.8Gbps Speed, AP Mode, Gigabit Port.
What is the maximum speed of TP Link RE650?
The RE650 achieves industry-leading maximum speeds of up to 800Mbps on 2.4GHz and 1733Mbps on 5GHz using 4-Stream technology.
What is the difference between L2TP and IPsec?
The ISPs employ the networking protocol L2TP to facilitate VPN operations. IPsec. Each IP packet in a communication session is authenticated and encrypted by IPsec, a protocol suite for secure IP communications.
What is firewall IPS vs dedicated IPS?
The primary distinction is that whereas a firewall blocks and filters traffic, an IPS/IDS detects an attack and notifies the system administrator or stops it depending on settings. A firewall permits traffic in accordance with a set of preset rules.
TP Link ER605 vs TP Link ER7206 Reddit Answers
1. I've been running the 605 for a day, on 500/500 just fine, mem ~30-40% and CPU 5-10%. Hardware offloading enabled, no QoS etc. Planning to setup IDS/DPI on another machine anyways. Not planning to use it for VPN. Got about 13 clients but we're just 2 people in the household. The money I saved I used to buy the sg2008p and an eap620hd.
If I were to buy the 7206 i would consider the firewalla gig routers, it would at least be a comprehensive upgrade in contrast to the 605. Based on what I'm interested in at least. User: lambdacats
————————————————-

2. Here's a link to a direct comparison. In general, the 7206 has more RAM (512MB vs 128), has more VPN tunnels (100 IPSec VPN Tunnels vs 20), has an internal power supply rather than an external brick. I've heard that it's faster when using VPN but have no first -hand knowledge. User: lflorack
——————————————————–
3. That might have changed with the 605 v2 which doubles the RAM and storage and supposedly has a faster cpu. The speeds are accordingly faster in the specs. However all the omada routers are fairly lacking when it comes to firewalls and similar things so you'll need a separate firewall for security (definitely the case if you have ipv6 since any device on your network with an ipv6 address will be accessible through that address). User: lostinthegrid47