Viewsonic VA1655 vs ViewSonic VG1655 – Blog
Viewsonic VA1655 vs ViewSonic VG1655: ViewSonic brings two displays to the table: the VA1655 and the VG1655. Both monitors have a lot going for them in terms of features and performance, but each has its own advantages. If you're trying to pick between the ViewSonic VA1655 and the ViewSonic VG1655, then you've come to the right place. So, let's dig in and see which screen truly shines.
Sale
Sale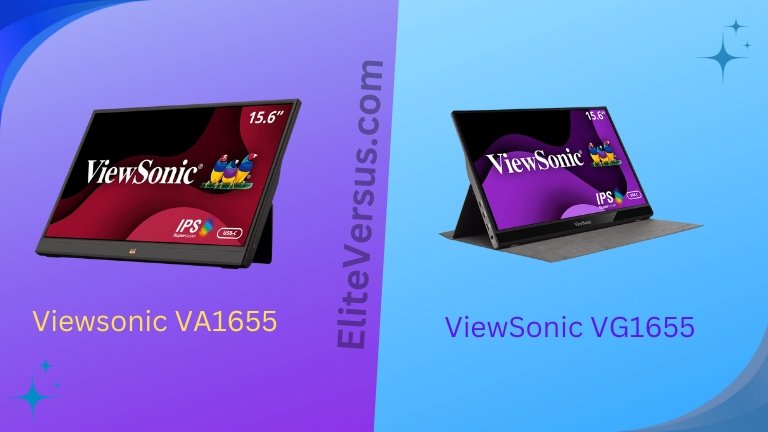 A brief overview of the key similarities and differences.
Both Are Huge Popular: The ViewSonic VA1655 and ViewSonic VG1655 are two of the best-known portable monitors on the market. The great performance, stylish aesthetics, and adaptability of these devices have made them popular among those in need of lightweight, portable display options.
Price: The price difference between the ViewSonic VA1655 and the ViewSonic VG1655 is noticeable. The VA1655 is a more reasonably priced portable monitor alternative for individuals on a tighter budget who want to reap the benefits of having one.
Response Time: The ViewSonic VG1655 and ViewSonic VA1655 are equally remarkable in terms of response time. With a reaction time of 7 ms, the VA1655 offers fluid pictures in a variety of settings. However, the VG1655 improves upon this with a slightly faster reaction time of 6.5 ms, resulting in less motion blur and more sharp visuals during fast-paced activities like gaming or viewing action films. Both the VA1655 (7 ms) and the VG1655 (6.5 ms) are great monitors because they provide smooth and precise display transitions that improve the viewing experience.
Similarities: The ViewSonic VG1655 and VA1655 are quite similar, and they both provide a ton of great options. Display size, connection choices, and a protective cover for the stand are all examples. A micro HDMI port, two USB-C inputs for power, and two USB-C ports are all standard on both displays. Their plug-and-play connectivity is further improved by their ultraportable design, 60 Hz refresh rate, and 3.5mm headphone connector.
Includes: The ViewSonic VA1655 includes a lightweight monitor, a protective case, a tiny HDMI cable, a USB-C connector, and a manual with basic setup instructions. The ViewSonic VG1655, on the other hand, comes with everything you need to get started right out of the box: a portable monitor, a cover, a USB-C to USB-C cable, a USB-C to USB-A cable, a tiny HDMI cable, and a power adapter.
Weight: ViewSonic VA1655 and VG1655 have marginally different weights. The VA1655's weight of under 1.5 pounds is really amazing. The fact that it is lightweight and can be assembled without much effort makes it a great option for travelers. However, at only 1.8 pounds, the VG1655 is still rather light for its size. The difference in weight between the two monitors may not seem like much, but it is important to take into account for customers who place a premium on portability and ease of use.
Dimension: The ViewSonic VG1655 is only 0.6 x 8.8 x 14 inches, demonstrating its space-saving, minimalist design. The ViewSonic VA1655 has a somewhat bigger footprint while still keeping a compact appearance, measuring in at 0.7 by 14.1 by 8.9 inches. Because of their sizes, both monitors may be used in a variety of environments, from a home office to a dorm room.
Viewsonic VA1655 vs ViewSonic VG1655
Brand
Buy on Amazon
Buy on Amazon
Response Time
7ms
6.5ms
INCLUDED IN THE BOX
Portable Monitor with Sleeve, Mini HDMI Cable, USB-C Cable, and Quick Start Guide
Portable Monitor with Cover, USB C to USB C Cable, USB C to USB A Cable, Mini HDMI Cable, Power Adapter
Refresh Rate
60 Hz
60 Hz
Resolution
1920 x 1080 pixels
1920 x 1080 pixels
Aspect Ratio
16:9
16:9
Display Type
LCD
LCD
Special Feature
Portable, Anti Glare Screen, Blue Light Filter, Frameless, Flicker-Free, Built-In Speakers
Portable, Blue Light Filter, Anti-Glare Coating, Flicker-Free, Built-In Speakers
FLEXIBLE CONNECTIVITY
STAND COVER & SCREEN PROTECTOR
Item Weight
1.5 Pounds
1.8 Pounds
Dimensions
0.7 x 14.1 x 8.9 inches
0.6 x 8.8 x 14 inches
Most Popular Questions About
Viewsonic VA1655 vs ViewSonic VG1655
Is the ViewSonic VA1655 touch screen?
16-inch 1920x1080 IPS touch-screen computer monitor from Viewsonic A portable 16" Full HD monitor, the ViewSonic VA1655, is ideal for bypassing one-screen restrictions outside of the workplace. For mobile business, one-on-one presentations, or leisurely pleasure, extend the screen on smartphones, tablets, or laptops.
Are ViewSonic monitors plug and play?
The plug-and-play functionality of ViewSonic's portable displays is ideal for getting around one-screen restrictions and enabling work wherever you are.
Is ViewSonic still a good brand?
ViewSonic: Although they don't have a large selection of high-end alternatives, ViewSonic is another company that manufactures fantastic, budget-friendly gaming monitors. They provide excellent gaming performance at a reasonable price.
Is ViewSonic a Chinese company?
Brea, California, in the United States, serves as the headquarters of ViewSonic, while New Taipei City, Taiwan, houses its research and development facility.
What rank is ViewSonic?
With 8 million subscribers to its myViewBoard platform, ViewSonic dominates the global interactive display market.
Does ViewSonic use LG panels?
By doing this, proper color is ensured even when seeing the screen from above or from the side. The VP2776 makes use of Nano IPS, a version of IPS that LG—the company that created the original IPS—introduced in 2019. Nano IPS reportedly increases color gamut and speeds up reaction times by adding nanoparticles to a monitor's backlighting.
What is the difference between L2TP and IPsec?
The ISPs employ the networking protocol L2TP to facilitate VPN operations. IPsec. Each IP packet in a communication session is authenticated and encrypted by IPsec, a protocol suite for secure IP communications.
Is IPS better than LED for eyes?
In terms of clarity, image sharpness, and viewing angles, IPS panels perform at the highest level. However, due to the relatively high brightness levels of IPS panels, the contrast ratio on these screens may not always be excellent. LED panels, on the other hand, provide very good black levels and a high contrast ratio.
Which ViewSonic 1440p is best?
The Viewsonic Elite XG270QG is an excellent 1440p gaming monitor to buy in 2022. It offers a great set of features along with a sharp and color-accurate panel for gaming, content creation workloads, and more. This is also one of the best-looking monitors out there that should be ideal for most setups.
Viewsonic VA1655 vs ViewSonic VG1655: Reddit Answers
1. The display itself is rather large: 16″ vs. my laptop's 13,4″. It features a convenient form factor, resembling a laptop screen rather than a traditional monitor. Because it's so tiny, it always fits in my carry-on when I fly. Because TSAs throughout the world have no idea what it is, you must remove it as you would a laptop. It comes with a USB-C Thunderbolt cable that carries both video and power, so it has the potential to be incredibly light.
————————————————-

2. There are several 4K alternatives available. Simply search Amazon for a 4K portable monitor. There are even two 4K OLED alternatives.
——————————————————–
3. 1080p? I don't believe I could go lower than 1440p on my 16″ laptop. I really wish there was a nice 4K option available so that I could watch the 4K footage I edit at full resolution.