Brother Se600 vs Brother Pe800 – A Comparison
Brother Se600 vs Brother Pe800: Are you interested in learning more about embroidery? Two well-liked options, the Brother SE600 and PE800, both promise to take your imagination to new heights.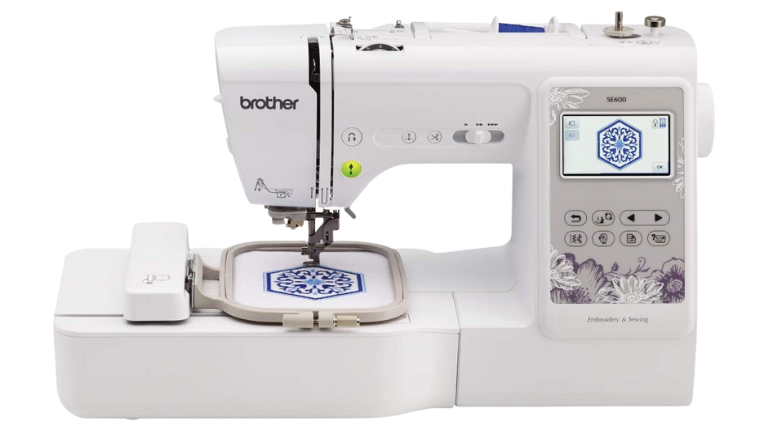 Machine Type: Sewing And Embroidery
Built-in Sewing Stitches: 103
Max. Working Size: 4″ x 4″ Hoop
Included Designs: 80 Designs
Machine Type: Computerized Embroidery
Built-in Sewing Stitches: 0
Max. Working Size: 5″ x 7″ Hoop
Included Designs: 138 Designs with 11 Fonts
 In this quick analysis, we'll compare and contrast these two incredible machines so you can make an educated selection for your embroidery projects. Come on, then; let's get started.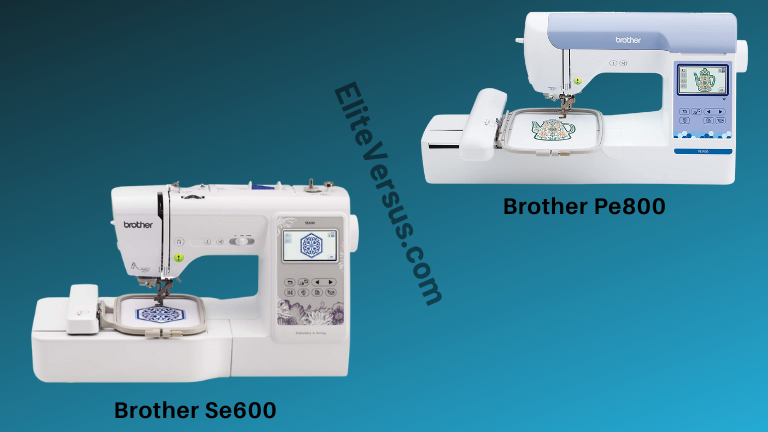 A brief overview of the key similarities and differences.
Both the Brother SE600 and the Brother PE800 are widely regarded as two of the best embroidery machines available. The SE600's automated needle threader is an improvement over the PE800's advanced needle threader. The quality of your embroidered work may be greatly improved by paying attention to these details.
An LCD screen for menu navigation, a USB connector for importing designs, and simple buttons like start and stop are just a few of the many remarkable features shared by the Brother PE800 and Brother SE600. These similarities improve the embroidery process as a whole.
The Brother SE600 is an excellent option if you're shopping for an affordable embroidery machine. Although the Brother PE800 is more expensive, it does not offer significantly more than the SE600.
The Brother SE600 has 80 distinct designs available for use with the machine's built-in embroidery capabilities, while the Brother PE800 expands on that with 138 patterns. This variation provides more room for experimentation and the expression of individuality.
The Brother PE800 stands out as the more transportable alternative due to its lower weight of 17.64 pounds. However, at 26.2 pounds, the Brother SE600 is somewhat heavier. Depending on how important convenience and mobility are to you, this weight difference may play a role in your selection.
The Brother SE600 allows you to pick from six different typefaces for embroidery. In contrast, the Brother PE800 has eleven different typefaces to choose from, giving you greater leeway when creating one-of-a-kind artwork.
The Brother SE600 has received more than 4,000 five-star ratings on Amazon. The fact that 82% of reviewers give the product a perfect score of 5 stars speaks volumes about how well it performs. Even though the Brother PE800 also receives high marks, the SE600 is the clear winner.
The Brother SE600 differs from the Brother PE800 in that it is a multifunctional machine that incorporates both a sewing machine and an embroidery machine into a single unit. The PE800, on the other hand, is dedicated entirely to its intended use as an embroidery machine.
The Brother PE800 is superior to the Brother SE600 due to its larger maximum work size of 5″x7″. The SE600, in comparison, has a somewhat reduced maximum work size, accepting just 4″x4″ hoops. Because of this disparity, the size and proportions of your needlework projects may need to be adjusted.
The Brother SE600 has 103 preprogrammed stitches, which is far more than the Brother PE800's meager selection of 19. The SE600's extensive stitch selection allows you to customize your stitching with a broad range of beautiful and detailed designs.
Brother Se600 vs Brother Pe800
Buy on Amazon
Buy on Amazon
Brand
Brother
Brother
Machine Type
Sewing & Embroidery
Computerized Embroidery
Auto-Size Buttonholes
10
Included Designs
80 Designs
138 Designs with 11 Fonts
Built-In Sewing Stitches
103
Built In Fonts (D)
6 Fonts
11 Fonts
Embroidery Designs (D)
80 Built-In Embroidery Designs
138 Built-In Embroidery Designs
Max. Working Size (D)
4″ x 4″ Hoop
5″ x 7″ Hoop
Needle Threader (D)
Automatic Needle Threader
Advanced Needle Threader
USB Port
Start And Stop Button
Touch Screen
Power Source
Corded Electric
Corded Electric
Item Weight
26.2 Pounds
17.64 Pounds
Display
LCD
LCD
Screen
3.2″ LCD Touchscreen Display
3.2″ LCD Touchscreen Display
Warranty
1/2/25 Year Limited Warranty
1/2/25 Year Limited Warranty
Product Dimensions
21.18 x 15.51 x 16.54 Inches
17.48 x 9.48 x 11.81 Inches
Material
Metal
Plastic
Most Popular Questions About: Brother Se600 vs Brother Pe800
What is the difference between Brother PE800 and pe600?
The PE800 is an embroidery-only machine with 138 built-in embroidery designs and lettering fonts, while the SE600 combines a sewing and embroidery machine with 80 built-in embroidery patterns and 103 sewing stitches. The SE600's greatest embroidery area is 4 by 4, whereas the PE800's is 5 by 7.
Is the Brother PE800 discontinued?
Buy on Amazon! Before the Brother PE900 took its place, the Brother PE800 was a beloved embroidery machine for a very, very long time. I advise it, especially for embroiderers trying to cut costs and those who don't care about the additional capabilities of the PE900, because it hasn't yet been discontinued.
Is the brother SE600 worth it?
The Brother SE600 is user-friendly for novices and appeals to those of us who wish to sew and embroider with only one machine, even though its 4′′x4′′ hoop isn't suitable for everyone. Before switching to a bigger hoop machine, I enjoyed using its twin, the Brother SE625. Need to know more?
What is the top of the line Brother embroidery machine?
Best sewing, quilting, and embroidery machine: Brother Luminaire XP1.
Is Brother SE600 good for beginners?
For a novice, the SE600 embroidery machine is commonly suggested. The inclusion of lessons in the SE600 makes it user-friendly for beginners. On the machine itself, there are additional threading instructions. See the entire article on the finest embroidery machines for beginners.
Can Brother SE600 do custom embroidery?
Liven up your imagination! You can sew and embroider easily with the Brother SE600 2-in-1 sewing and 4x4 embroidery machine. On the huge, 3.2" Sew Smart color LCD touch screen display, examine your embroidery patterns in full color and preview your design adjustments before sewing.
Can the brother PE800 use a 4x4 hoop?
The Brother PE800 can utilize a 44-inch hoop; however, some users have reported using the machine to embroider hats with the included 57-inch and smaller hoops, such as ones with a 1-inch diameter.
How fast does PE800 stitch?
The Brother PE800 has a maximum stitch rate of 650 per minute.
Brother Se600 vs Brother Pe800: Reddit Answers
1. When the PE800 was originally launched two years ago, I purchased it for less than $600. Therefore, the $1,000+ price constitutes price gouging. The PE800 is a dedicated embroidery machine with a 5×7 hoop. A sewing/embroidery machine with 4×4 hoops and presumably a few pre-loaded designs is called the SE 600. I began with a 4×4 and outgrew it after a year. I then purchased a PE800 and outgrew that machine the following year, at which point I upgraded to a multi-needle machine. Look for a used one on Facebook Marketplace.
————————————————-

2. What still functions? The PE800 equipment? Recently, the costs have decreased, and I've seen various models on Amazon. Additionally, people constantly sell their machines when they improve or realize embroidery isn't for them. Facebook groups for needlework should be checked out. These communities are quite active, with daily queries and answers of various types. In some communities, people also upload pictures of their projects.